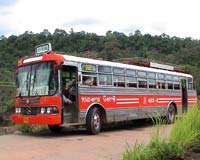 The land of ashrams and yogis; Rishikesh is located in the state of Uttarakhand and lies nestled atop the Himalayas, at a height of 356m. Surrounded by snow-capped mountains and wooded forests; the place is a favorite tourist destination for its huge array of water and adventurous sports. Moreover; the Holy Ganges that flows through the place, and the innumerable temples located on its shore, makes the place a hub of spiritualism. A major place of pilgrimage and a den of adventure; Rishikesh is one of the most frequented tourist destinations in India. Here are some of the most convenient ways that will be the perfect answer to the question of how to reach Rishikesh.
By Air
There is no airport in Rishikesh. The nearest is the "Jolly Grant Airport" in Dehradun, located about 35 km away from Haridwar and about 15 Km from Rishikesh. At present the Jolly Grant Airport is closed for renovation and is likely to get operational by the first quarter of 2008.
By Rail
The nearest railhead is Haridwar, 24 km away from Rishikesh. Haridwar is a major station of the state and is well connected to cities like Delhi, Lucknow, Mumbai, Allahabad, Varanasi, Kolkata, Dehradun etc, by various trains. People have to travel by train till Haridwar and then, board a public/private vehicle for getting to the place.
By Road
Rishikesh is easily connected to various important cities in Uttaranchal and other parts of India by an extensive system of roadways. Well maintained roads connect it to cities like Haridwar (24 km), Dehradun (47 km), Mussoorie (77 km), Delhi (230 km), Srinagar (105 km) etc. Various tour operators provide luxury/ non-luxury vehicles to reach the place. Government buses are also available.