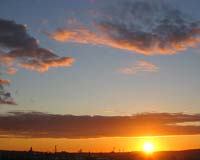 Location:
Uttarakhand/Uttaranchal
Altitude:
356 m (above sea-level)
Summer Temperature:
Minimum: 29
o
C, Maximum: 40
o
C
Winter Temperature:
Minimum: 5
o
C, Maximum: 20
o
C
Annual Rainfall:
2136.7 mm
Best Time to Visit:
March to November
Cuddled by the Himalayas in the Northern part of Uttaranchal; the holy land of Rishikesh is located at a height of 356 m above the sea level. A renowned place of pilgrimage and an equally adventurous tourist destination; it has climate similar to that experienced by places in the Western Himalayas. Because of its mountainous and hilly terrains and its close proximity to the river Ganges; Rishikesh enjoys a temperate climate throughout the year. This facilitates the influx of tourists to the place and makes it a great holidaying destination. Here is detail information on the weather of Rishikesh.
Summers
Due to its altitude and geographical location, the climate of Rishikesh escapes the extremes of nature. During summers, that generally begin in May and lasts till the month of June/ July, the days remain hot and a bit sultry. The temperature soars to a maximum of 40
o
C. But the heat is mild and moderate. The temperature may fall to a minimum of around 29
o
C, with little rainfall during the nights.
Winters
The cold season in Rishikesh is pleasant, and generally starts during the month of November and lasts till the end of February. The maximum temperature remains around 20
o
C. Evenings are comparatively cooler than during the day time, with the mercury level falling to a minimum of around 5
o
C. Winter showers may also be experienced during this season, which makes the climate damp and cold.
Monsoons
After the summer heat, monsoons are very welcoming in Rishikesh. They generally begin in mid-July and last till autumn in September. Frequent rainfalls are experienced during daytime. The average rainfall is recorded at 2136.7 mm. Though the climate in Rishikesh is bracing throughout the year, the best time to visit the place is generally between the months of March and November.