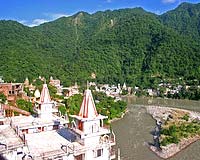 A small town located on the foothills of the Himalayas, in the northern part of Uttarakhand, Rishikesh is your first step towards the holy journey of "Char Dham" (Badrinath, Kedarnath, Gangotri and Yamunotri). Derived from the two Sanskrit words "Rishik" (senses) and "Ish" (master); Rishikesh literally means "He who has conquered his senses". Steeped with myth and lore; it is believed that God appeared in the place in the form of "Hrishikesh", in answer to the severe penance undergone by the sage Rabhya Rishi. An ascetic's paradise; the place is teemed with temples and is a renowned pilgrimage centre of the Hindus.
Rishikesh is the fountainhead of the Ganges of the plains. It is here that the holy waters of the Ganga leave the Shivalik Mountain ranges and meander their way to the plains below. Numerous big and small temples are hemmed around the banks of the river, which lends the city its divine aura. It is believed that a holy dip on the sanctified waters of the Ganga or a deep meditation besides its shore; makes one feel spiritually rejuvenated and helps in the attainment of moksha. Thus, every year a large number of devout pilgrims flock to Rishikesh in order to enjoy its mystical appeal and renew their faiths in the Divine.
Rishikesh is also the birthplace of "Yoga" and home to many ashrams and yoga centers of India. This has earned it the epithet of the "World capital of Yoga". Various lessons on classical texts, mythology, Hindu philosophy and meditation techniques are offered in these ashrams that help you to contemplate your spiritual self and feel close to Divinity. This makes these ashrams very popular among Indians as well as the foreign tourists. Every year in the first week of February; a yoga festival is held in Rishikesh with much pomp and grandeur, which adds to the travel & tourism industry of the city.
Apart from its towering temples and its pious milieu; Rishikesh is also an ideal vacationing destination for the adventure seekers. At an altitude of 356 m, with a large forested area on its all-mountainous regions and the soaring waters of the Ganges, the place has facilities for various high adventure sports. The huge paraphernalia of adventure and water sports include jungle safari, river rafting, canoeing, hiking, mountaineering, trekking, skiing et al, which attracts a lot of people from the hoary plains nearby. No doubt; an expedition to the land of Rishikesh will help you to revivify all your senses.